***The May 2021 Challenge is Complete! Stay tuned for details on our July 2021 Challenge COMING SOON!!!***

May 2021 Sascy Cycling Challenge!

We are kicking off May 2021 here at Sascy Cycling by hosting another FREE Women's Cycling Challenge! Come join us and crush your cycling goals!
Joining is a simple, three-step process.
Want more details? Check our our FAQs below!
FAQs
What is the Sascy Cycling May 2021 Challenge?
The Sascy Cycling May 2021 Women's Cycling Challenge is a fun and exciting way to stay on top of YOUR cycling goals. We will have daily accountability check ins in our private Facebook group ( Sascy Cycling Motivation and Accountability ), and work together to keep our legs spinning!
How Does the Challenge Work?
We will be tracking our progress on BikeReg in terms of mileage, elevation, and time on the bike. There will be badges along the way, and you can set whatever goal you choose for yourself! The idea is that there is something for everyone here, and a way to challenge yourself no matter what your "skill level" on the bike!
You will be required to connect your STRAVA account with BikeReg AND/OR join the Sascy Cycling STRAVA club IF AND ONLY IF you want to be considered for the challenge prizes. You can hang out with us, stay motivated, and check in with everyone in the private Facebook Group either way!
The Sascy Cycling Motivation and Accountability Group is where we will be checking in, socializing, and posting pics of our rides. Additionally, I will post tips and articles on how to stay motivated and engaged. Check-ins in the Facebook group will be daily but they aren't mandatory. You may check-in with the group as little or as often as you like!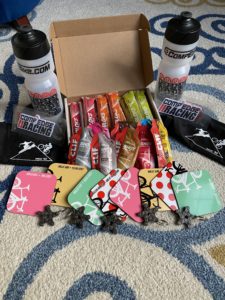 Finally, there will be some PRIZES! I will be putting a little something together myself, and if you or anyone you know owns a business or is interested in donating prizes to our challenge, please contact me at [email protected] Everyone who donates will get a mention in our Facebook Group!
Hi! I'm Stacy , and I created Sascy Cycling to help motivate and encourage women who love cycling to also love their body. Here at Sascy Cycling we focus on what our body can DO, not what it LOOKS like. Some of us are interested in improving our bodies and losing weight, but we do it from a place of love and appreciation of where we are at right now.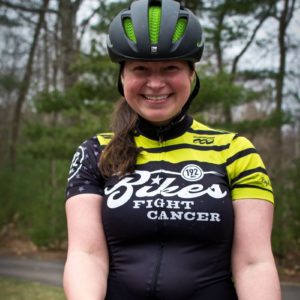 We are an amazing community of supportive women who love to ride, and love to offer support!
Join our email list and you will get a free road cycling checklist, as well as handy cycling and motivation tips sent right to your inbox!
For more information please check out our about page! For awesome cycling and motivation tips please also check out our blog, here!
How Much Does the Challenge Cost?
Our challenge is absolutely, positively, 100% FREE! There is no cost to participate!
We do ask that you consider donating to our favorite non-profit, Bikes Fight Cancer, but that is COMPLETELY optional.
Bikes Fight Cancer is a cycling team that raises money every year to fight cancer and ride in the Pan Mass Challenge. 100% of your donation to Bikes Fight Cancer goes directly to supporting cancer research at the Dana Farber Institute. There is a handy donation button on the BikeReg registration page for the challenge, so please do consider donating if you are able! Because, you know, cancer TRULY sucks.
Do I Need to be a Hardcore Cyclist to Join the Challenge?
No! Absolutely not. Honestly, I would say most of us are casual rides who just want to spin our legs and have some fun! We have beginners as well as seasoned riders in this challenge. This challenge is open to all women who want to ride a bike! We are excited to support EVERYONE!
Does it Matter if I Ride Indoors or Outdoors?
Nope! You can ride indoors, outdoors, or some combination of the two. Any way you get your legs spinning is welcome in the challenge. It doesn't matter WHAT you ride, all that matters is that you RIDE!
Does it Matter Where in the World I Live?

Not at all! Our challenge is virtual and is open to anyone, anywhere in the world!
You only are required to join us on BikeReg, link your STRAVA account, and/or join the STRAVA club if you would like to be considered for prizes for top elevation, mileage, and time on the bike. If you just want to be a part of the Facebook group and join in the fun and camaraderie there, that's totally fine!
The group is really what it's all about…it's where we motivate, encourage, and hold one another accountable. And the group is not just for the duration of the challenge! We continue to stay together and motivate one another long after the challenge ends. Besides…in the Sascy Cycling Motivation and Accountability group there is always another challenge on the horizon!
How Do I Upload My Cycling Data to Bike Reg?
In the registration process you will be prompted to link your data via STRAVA. Once you join the Challenge there is a button in the middle of the BikeReg page called "Enter Data" where you can go to set it all up. You do have to initiate the sync with STRAVA periodically by going to the "Enter Data" page. It will then send you an email that prompts you to sync your STRAVA data with BikeReg.
I linked my STRAVA account to BikeReg and it said it was successful, so why don't I see a STRAVA icon next to my name on the Leaderboard?
If you did not choose the option to have a link to your STRAVA profile on the leaderboard, there won't be a STRAVA icon there. The icon is just a link to your STRAVA profile so others can find you on STRAVA. Your data should still upload without a problem!
Help! I Have a Different Question!
Send me an email at [email protected] I am happy to help you out, and will be thrilled to hear from you!