The sport of cycling is exhilarating! It's FUN! There is nothing like the feeling of jumping on your bike and knowing that you have the power to move your body.
That your body can do hard things!
That you can use your own two legs to get you where you need to go.
That you can climb up hills, and then fly down them!
The sport of cycling is amazing, but it can be really intimidating as a female cyclist if you let it. Sometimes it feels like there is a massive learning curve, and that you aren't doing anything right.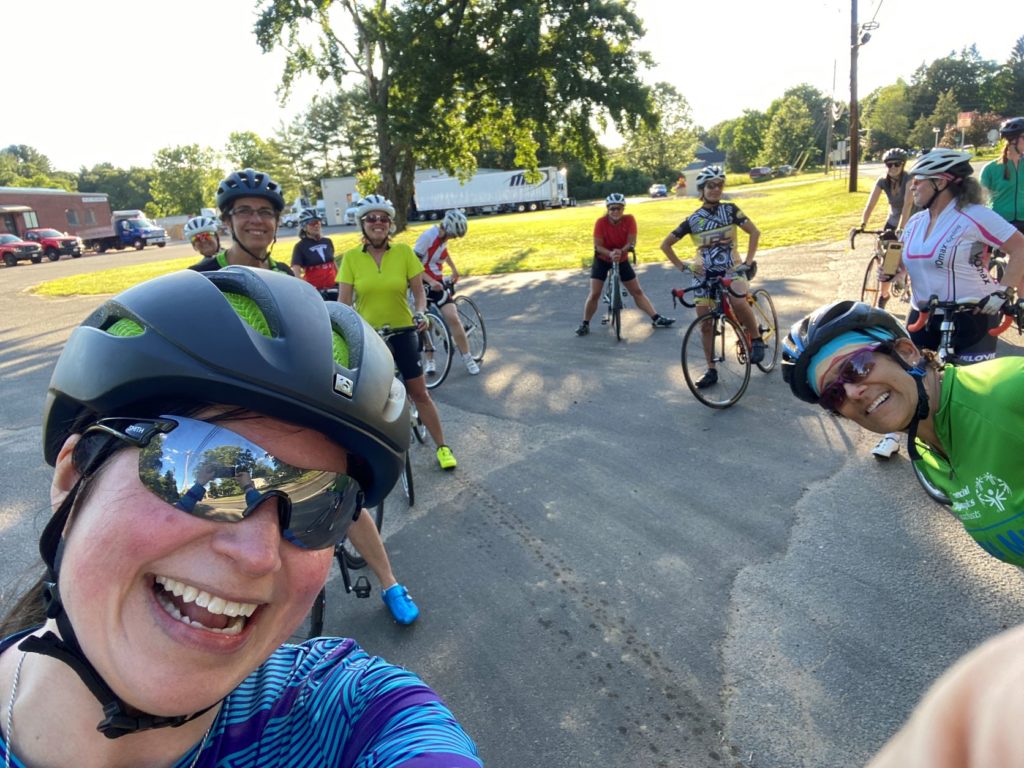 As female cyclists we at times find ourselves second guessing everything.
Many of us have this obnoxious inner monologue about ourselves as cyclists.
"Are my socks too short? Are they too high?"
"I ride a hybrid bike, do I need a road bike/cross bike/mountain bike to be a cyclist?"
"I wear baggy clothes when I cycle, does that mean I am not really a cyclist?"
"I am not fast. I struggle up hills. Can I really be considered a cyclist?"
"I have an ebike. Am I actually a cyclist?"
"I am heavier than a lot of other cyclists I see. Does that make me any less of a cyclist?"
"I don't even know what bib shorts are. Do I have to wear bib shorts if I want to be a cyclist?"
If any of these questions sound familiar, read on to learn my 3 simple tips for overcoming imposter syndrome and realizing once and for all that you are a cyclist.
I know from chatting with women all around the world in our Facebook Group, and from talking with my lady cycling friends on our Wednesday night group rides, that imposter syndrome for female cyclists is real.
We find ourselves second guessing our cycling status over and over again, and it is so incredibly easy to feel pressure to wear the right gear, have the right bike, and ride super fast to fit in.
The simple reality is that if you pedal a bike? Any kind of bike? If you make circles with your legs?
If you ride indoors or outdoors?
If you ride a hybrid bike? A road bike? A spin bike? A mountain bike? An ebike? A peloton? An indoor trainer?
You ARE a cyclist.
A REAL cyclist.
It doesn't matter what you ride, what you wear, what kind of bike you have, or how far you go.
All that matters is that you ride.
Tip #1: Stop Comparing Yourself to Other Female Cyclists
This is SO hard, but SO important.
Sometimes it feels that by nature we as humans just can't help comparing ourselves to other humans.
We see what other women cyclists are doing, and we just feel like if we aren't doing the same or better, we simply don't measure up.
We feel like we aren't fast enough. That we look too fat in our kit. That we don't even have a kit or know what a kit IS!
All sports are competitive, and competition can be great!
It is only great, however, if it makes you feel good.
If you see other girls in your cycling group and they inspire you to do better and grow stronger from a place of excitement and love? That's great!
If you are constantly comparing yourself and feeling like you just don't measure up? If you are wondering why you are even bothering to get on the bike? These thoughts are NOT serving you.
If you find yourself on STRAVA constantly, or constantly scrolling social media, and see women who are out there riding and it makes you feel bad because you aren't doing as well or riding as much?
This is NOT serving you, and you need to stop.
You need to take all of the focus off of others and put it where it belongs…on YOU.
When it comes to cycling, it truly does not matter what anyone else thinks of you.
All that matters is what YOU think of you.
I know this is easier said than done, but once you realize that YOU are in control of your thoughts and your thoughts are optional you will begin to see that path to end your negative thought loop.
A negative thought loop is when you have a negative thought that leads to another and another.
Before you know it you find yourself paralyzed with inaction and doing everything BUT getting on the bike in order to feel better.
For example, when I am stressed or having negative thoughts I generally seek out comfort foods to feel better. I hit up the pantry, eat a bunch of different things right out of their bags or boxes, and end up feeling worse.
If instead I let myself feel the negative emotion and examine the negative thoughts, I can start to find ways to make those negative thoughts neutral, or even positive.
This process keeps me from comparing myself to others, keeps the focus on ME, and keeps me feeling confident.
I get on the bike again and again because I am only focused on what I am doing, and I am freaking PROUD of myself for doing it.
Once you stop comparing yourself to other female cyclists and focus on yourself and yourself alone, you will be unstoppable, my friend.
Tip #2: Don't Let Anything Anyone Does/Says Get You Down or Keep You Off Your Bike
I think almost all of us have had a moment where someone else said something that made us feel less than on the bike.
Made us feel less of a cyclist, or less accomplished.
Maybe it was a guy you were riding with who seemed threatened by your skill, or someone who yelled something out a car window.
Maybe you simply felt like the other people you were cycling with wanted to go faster, and you were holding them back.
Maybe you signed up for a race or a big ride and didn't perform as well as you hoped.
Whether it is real or perceived judgement from others, we can have a tendency to let this impact the way we feel about ourselves.
When self-doubt really starts to creep in, it can keep us off the bike.
If we feel like we aren't a real cyclist, or aren't good enough, then we don't really see the point in riding.
And if that person that is saying all these awful things about you is actually YOU?
Then you need to stop beating YOURSELF up!
Telling yourself that you aren't good enough, that you haven't been riding enough, that you need to go faster just makes you feel like crap.
It feels BAD.
It feels bad and it is NOT going to make you a better cyclist.
It is actually going to make you that much more likely to shove your bike in the corner of the garage or in the basement, and stop riding it altogether.
Instead of talking to yourself like a jerk, start with neutral thoughts like "I ride a bike."
or "I rode x miles today and that's OK."
Your brain is smart, it's not going to believe you if you try to say "I rode x miles today and thats AWESOME!" right away.
But, if you are saying "I rode x miles and that's ok"? That's something your brain can believe.
And it's so much less harmful than "I only rode x miles today."
"I rode x miles and that's OK" is going to help you know that x miles was enough.
That YOU are enough. Just as you are, right now.
YOU can always choose to ride more or less miles, and that's OK.
Tip #3: Find A Positive and Supportive Cycling Community 
If the folks you are riding with/around aren't supporting you, or you find yourself always riding solo and feel like it's just you against the universe, a positive and supportive cycling community can go a LONG way to helping you overcome imposter syndrome as a female cyclist. 
I found this to be the case when I first started doing group rides. I had amazing group leaders who really helped me learn how to ride the bike.
They helped me shift, and they helped me get stronger so I could keep up with the group. They taught me how to get down in the drops and fly down hills!
The support and encouragement I received from these wonderful women was everything.
In fact, this support was the reason I created Sascy Cycling. I wanted to make sure that everyone who identifies as a woman anywhere in the world has a virtual community of support. 
We Sascy Cyclists may not be able to ride with you in person, but we will ABSOLUTELY ride with you in spirit.
Join our Facebook community, join our email list. We are always here for you, every step of the way. Email me at [email protected]. This community is everything to me, and I love hearing from all of you.
A supportive women's cycling community celebrates your accomplishments, and lifts you up when you are struggling.
We should always stick together, and never let anyone or anything keep us off the bike!
If you follow these three simple tips, and really focus on calling attention to your negative thoughts and stopping them in their tracks? If you find wonderful women who love cycling and love to see all women on bikes? You will be well on your way to gaining confidence as a female cyclist.