When the holidays come along, some of us female cyclists have a tendency to be concerned about weight gain. We are worried that we will eat all of the things and we will never have time to ride our bikes.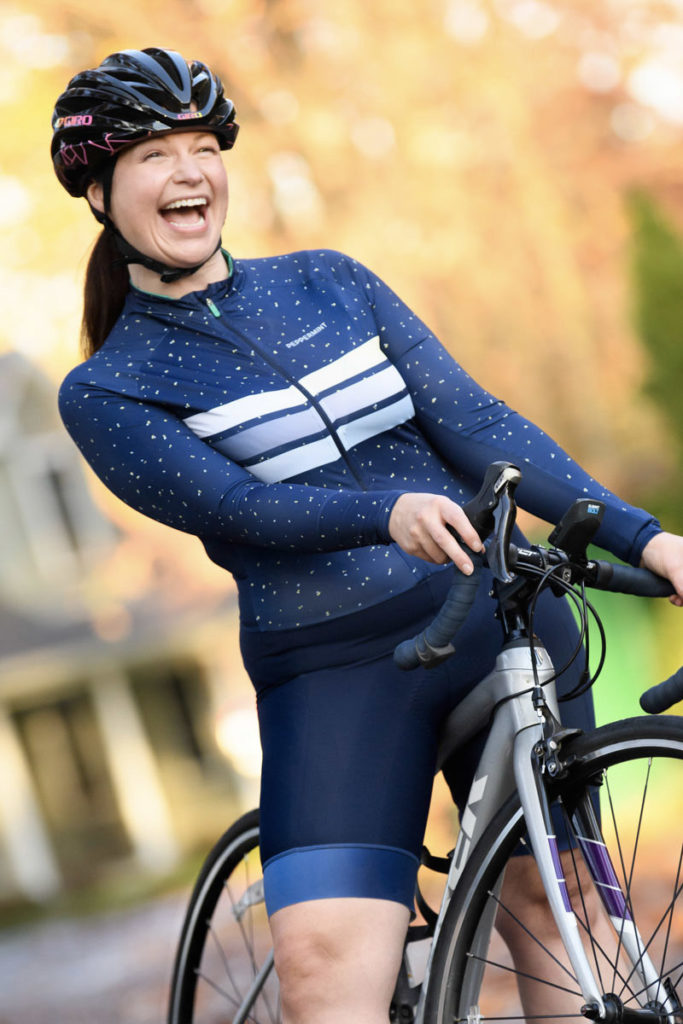 There is a feeling that we are going to screw up all of our hard work, and then have to make some extreme panic resolutions come January 1st.

It does NOT need to be this way!

The reality is that when we take a step back, and a deep breath, we can come up with a very manageable plan.

You know, the sort of plan where you feel like you have power, agency, and can actually have fun and freaking ENJOY the holiday season. No one wants to be miserable! We want to see friends, see family, have some cookies and yummy foods, and ride our bikes when we can.

Curious about how to do this? Read on for Sascy Cycling's 5 quick tips on how to maintain your weight over the holidays!
Tip 1: Realize YOU are in Control
This first tip is HUGE! So many times we think we are out of control, and we freak out around the holidays.

The cookies aren't in control. Your grandma who doesn't understand why you aren't eating more isn't in control. It's YOU.

We think that there are just going to be cookies flying into our face and we are helpless to stop it, so we may as well say eff it and just eat ALL THE COOKIES.

The reality is that you get to decide what you are going to eat, and whether or not you ride your bike. And you can do this without all the drama, my friend.
You get to decide what you eat and whether or not you ride during the holidays. Focus on feeling empowered to make these choices.

Plan what treats you are going to indulge in, and enjoy them guilt free! Instead of feeling like the holiday season is just happening to you and there's nothing you can do about it, focus on being the one in control who is making all your choices.

Know that every day you can make a new choice or a new decision. YOU can decide to do something differently if YOU want to!

And, if you don't want to make any changes? Know that's fine too.

Feeling out of control and beating yourself up over the choices you made yesterday just isn't going to get you the results you want. You know what does get you results? A plan.
Tip #2: Make a Manageable Plan for your Food
Go ahead, grab your calendar and put those holiday events on it. You will quickly realize that there aren't nearly as many as you originally thought.
Maybe you have 3 or 4 holiday meals, or 2 or 3 holiday parties.

Maybe you have 10 out of 90 meals over the next 30 days or so that are "special" meals.

That's it! The percentage of "normal" days and meals will likely be way more than the "special" ones.

The next step is to develop a plan for each of the special meals or events. Think in advance about what you are going to eat, and if you don't know what's on the menu, focus on just eating when you're hungry, and stopping when you are satisfied.

Remember, we are overweight because we overeat. It has less to do with what we are eating, and a whole lot more to do with the fact that we are eating when we aren't hungry because it tastes so darn good.
Tip #3: Create a Reasonable Schedule for Bike Rides
I know, feeling busy during the holidays and having less daylight in the evenings can make it feel harder to fit those rides in.

To combat this, put your rides on your calendar right along with all of your other plans. If you can't ride outside, ride inside on a Peloton or indoor trainer!

If these items aren't available to you, schedule a different type of movement.

It can be anything. A walk, a strength workout, yoga.

Don't feel like you can't move your body if you can't ride!

The idea is to stay in the habit of moving your body during the holidays.

Cycling is NOT a punishment for eating too much, or something you have to do to earn your food.

Don't think of exercise as something you do to try to burn off your holiday meal/earn your treats.

Ride your bike and move your body to feel strong, because you love it. If you make it more of a punishment or a means to an end you sap the joy out of it, and no one wants that!
Tip #4: Don't Obsess Over the Scale
What's on the scale is just a number. It means nothing until you attach a feeling to it.

A couple years ago I lost almost 50 pounds, and learned how to weigh myself every day without drama.

I want you to practice thinking about what's on the scale as simple information. It's just data.

If it's up a bit, try thinking something like, "Oh! That's interesting. I wonder why?"

There are so many reasons why our weight fluctuates.

I promise that the number on the scale means nothing about you. It's truly just a number. Just a snapshot in time of what you happen to weigh at that moment.

If you want to lose weight, do it from a place of love and appreciation for how awesome your body is without hyper-focusing on that number.
Tip #5: Have a Post-Holiday Plan
You may have noticed that a lot of this process has to do with managing your thoughts (you know getting rid of crappy ones) and having a solid plan.

The idea is to be intentional about your rides, your meals, your treats, and your plan for when the holidays are over.

This is a great way to move into the new year focused on your health and fitness.

Each January Sascy Cycling offers a completely awesome and totally free challenge where we jump start our weight loss and fitness in the new year.
We would love to have you join us!